Before I get to the race report and the pre-race report, which as you recall usually has more anxiety and self talk than the actual race...I wanted to post a picture of what i really really love about multisport events:
Yup the FINISH LINE. And the random kid who appears to like the TWINS and IM.
No, really, the hanging out with gals (and guys) post race. I cant say I know these gals really well, and even tho we are FB friends, when you get in a race with people, sometimes it can get AWK-WARD! I entered T2 with three of these four ladies and exited with one of them hot on our heels as Jen L is a speedy fantastic runner. We all finished within 1-2 minutes of each other. And to have that comraderie and maturity to know we all pushed each other on the course, the entire way, is pretty darn cool. Ok now onto the pre-race and race.
Pre-Race:
I am not a fan of sunday races. I usually work a shorter day friday and with weekends at a premium I want to get it going. Plus then you have sunday to recover or train if you are not too beat up. Saturday was a tired day for me. We babysat the night before for my nephews which was a hoot. Spiderman 3, pizza, trampoline time, the mandatory tears when Joe whacked his head on tramp ( Rich said "so you guys just smash each other until someone gets hurt? To which the boys said "Yup.") this time the older one took defeat in stride. And the late night took a toll on me. We go to bed by 10 at the latest and we didnt get home till midnight! But it was all fun and I am glad we did it.
Saturday I did my little tune up and then napped, tried to pretend i was GRRRRRRRRR...but realized we had a birthday party to go to that night for my dear 83 yo aunt. She is usually an early bird but the party didnt start till 7pm! Usually I am done eating my pre-race meal by 7! So i tried to just eat really well all day long knowing i couldnt and didnt want a big restaurant meal in my belly 10 hours before race time! We had a lovely time with cousins and family and I dis-obeyed the "dont try anything new on race day" motto by having Seared Marlin and Quinoa for dinner. The place we ate has the best best best baked garlic and casear salads but ...um...can you say HEARTBURN! So i was a good girl and ate bland, but even so i was a bit unsure how the raw-ish fish would do. Turns out it was GREAT!!! Got home had lights out at 10pm and slept sorta ok till 5am wake up.
Race Day!
Got up and had the pre-race brekkie and headed out by 5:45 to the race site. When i got there around 6:25 I saw that the entire front rack was taken. So much for Transition opening at 6:30:) No worries, I found a good spot that i knew i couldnt miss, right near the car.
Huh?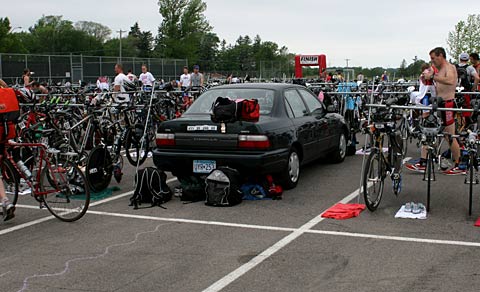 You may have seen this on Speedo's blog but my bike is just to the right of the hood and my pink IronGirl Knapsack is on the hood. I knew where my bike was, that is for sure!
I racked my bike, did my usual panic talk of " OMG so and so doesnt have her disc, she usually does, maybe its super windy, maybe its windier than it feels, maybe i should not ride my disc..." but then shut myself up and refocused on getting the lay of the land and then went to warm up with Jen L, another one of JPH's athletes. She said to me " By chance do you have a warmup of 20 minutes and 4 strides?" I said, "No, I have warmup REALLY WELL. Like you are doing a 10k. But maybe we can work something out." We laughed and headed out to warm up. It was really fun to talk each others nerves down, talk about how TOUGH the field was, and then talk about our upcoming seasons. Jen L is doing IM KY, and when she asked what my wko was today ( monday ) and i said "recovery swim," I felt like a wuss when she said " 100 mile bike! "
Heck its 94 out right now. I am glad she told me she talked JPH down to 3 hours in the saddle and the NikelBack ( spelling?) concert:) Nice coachs do that for their athletes. Anyways it made me say "Crap, I am glad i am not doing an IM!" Ha, I say that but you know i am thinking about it:)
Anyways..see this is far more interesting than OUCH. Which was my FB update post race.
So....we go line up and we are set to go 3 minutes after the elite men. I look around and think that there is nowhere to hide now. Last year we were with the elite men, so we could kinda hide from other women. This year I was right up there with Julie H, CY, Jenny Wilcox, Cathy Lee, Marlo, Suzy Finger, Jen L, Marta, Jan Guenther, etc...lots of fasties...Gulp, all these people that are super fast. I just then remembered i had my name on my butt. Ok Girl, time to put up or shut up. ( or take your name off your butt) I wasnt intimidated but i knew i had some work to do and I was ready to give it a try. The gun went off and ....
We are off. I am in my super awesome Kiwami suit on the far right. Woohoo, knee lift:)
CY the eventual champion of this race ( and a super champion person too, for that matter) is out in front in her Gear West colors.
We run on the road for the 1st 1k, and then its 4k of loopy in and out trails, grassy fields, a wooden bridge, ups and downs and some very uneven footing. A few times you come in and out of the grassy trails you actually take a 180 degree turn and can then see who is behind you. That is a good motivator to keep on truckin! The final part of the last 4k is a steep uphill. It isnt super long, maybe 50 feet? I dont know, but you have in your head POWER UP THE HILL, but i know for me it is a "small chain ring" climb, meaning i take small steps, pump my arms and when iget to the top i can get right back into that big ring and power on the flat.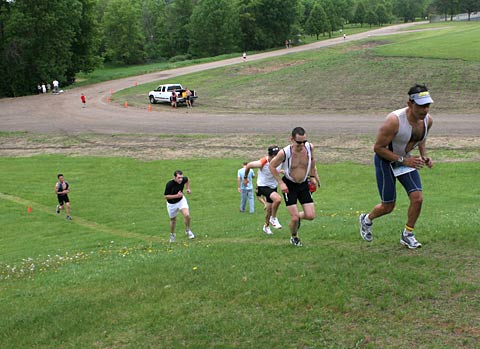 Ok bike talk but that works for me. So i am running about 10 gals back the entire time, passed a few in the last 2k but am right on Jan Gunther the entire way into T1.
Jan is 51 years young and my idol. She is a champion skier, winner of the Birkie, and is just a fantastic athlete. I couldnt tell you her times at races, but she has placed high at IM Moo, and is just a great athlete. She owns the ski side of Gear West and does a lot for women in all arena's of sports, winter and summer! Anyways...I knew my chances at masters champion were null with her in the field...
So I got into T1, and ran to my car.
I had a few seconds of getting my shoes caught but i put that helmet on FAST and off i went in my socks.
BTW I am totally stealing Stenzel's pictures, thanks Steve. But even tho i did walk a bit...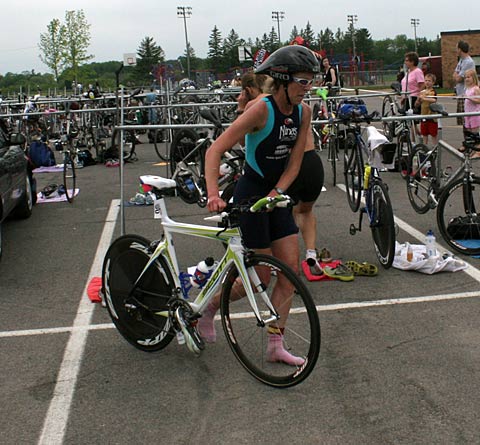 I had to walk and steer my bike by the handle bars not the seat to get thru my car passage. Not sure that was a good rack spot or not.
So T 1 was 50 some seconds. Helps to have no wetsuit, eh? And that was a great improvement from last year. Got into my shoes ok, and was quickly passed by and never saw again the phenomenal Julie Hull. Dang she is fast. She is right behind me in T in this picture and i think it was the last i saw of her!
Ride 28 K. I started out thinking "OK so i didnt hold back on that run. Now what does that mean for the bike..." The wind was not too bad. It was 12-14 MPH from the South so we had more of a cross wind on our rectangular course than a head or tail wind. I did what i wanted to do and that was RIDE HARD. I was trusting JH that i was trained well enough to not hold back on the ride and still run off the bike. Even tho some people think i am this uber biker...well...I still struggle with the bike. IT is hard for me. It is hard for me to suffer on the bike.
Bike racing is all about suffering to stay in the break, or to close a gap, or to block ( La dee dah) while your teammate is in the break. IT involves suffering but it you get to drop back, hang out, and yes you have to be alert otherwise you will get dropped if you are not on the team with the most in the pack or you are dumb, but overall, you get to suck alot of wheel.
So as I am riding knowing this isnt THAT long, its about 18+ miles...I know i have to really just LET IT RIP. I dont wear a HR monitor and i do have a computer with my speed. The course is rolling and there are no major climbs but there are a few longer medium grade climbs that make you really work. I think other than one time where i really had to cry MOTHER i kept it pretty high and was able to power over the apex and down the the other side. MY disc is just so sweet and I do feel it helps me go faster downhill, which is NOT my strength. Some disc's weigh a bit more but this is a Zipp Sub 9, supposedly it gives you a free 9 watts! Anyways I love mine and feel really fortunate to have one.
I did get passed by a few women. And was leap frogging with 2 of them, Marta and Tara. We were honest and encouraging each other, and there was no drafting. But it was good to have the finish come so quickly, and i let them go ahead by about 20 feet so i could get my feet out and get ready to hop off. I knew i had beaten my 2009 time by over 3 minutes and with that I was so happy. I knew the race was a success no matter what my finish place was. But to see if i had legs...hmm...4k on trails....to come!
So I was super lucky on the dismount! Tara stopped left. Marta stopped right.
I rode right thru them, moving dismount, and into T2! That was fun.
The announcer said "well this will be interesting. We have 4 women all into T2 together. They will be working each other over on that run course." And that was the truth.
Tracie ( another phenomenel rider) passed us about 1 mile from the finish and Sarah had also decidingly passed me about 3 miles out. I hadnt really thought about it, but knew how hard i had worked to get a 21.4 mph average and saw afterwards that these ladies had ridden upwards of 22.5 mph. That is fantastic. I never really thought...OH i have to run them down. I just ran.
I passed Marta and Tracie pretty quick, within the first 1/2 mile. I saw Sarah ( who has the cutest baby, btw) ahead and ran behind her for about 1/2mile. I felt kinda bad bc I was being Darth Vader behind her. So i ran along side her when i could and said " Ok sorry to be breathing on your back." At one point we had to duck back into the woods so i just hopped ahead of her. And then...I guess I hopped ahead of her enough that i had a gap.
TThis picture is from Christine Wood photography. Christine is the wife of Curt Wood,who is a talented athlete and employee of Gear West. They are new parents as well! Thanks for the pictures Curt and Christine! I think this is while i am still chasing Sarah. oops I just realize this is run 1. bc i have no visor on. I am too lazy to move it:)
As we weave in and out of the wooded area as i said you can see people ahead of you. And I do see another woman ahead. It is the very talented and strong Suzie Finger. I dont know Susie but i know she was the rookie of the year, she is alot younger than i am, and i know she likes to Juice and eat Raw stuff:) She had a great season last year and I know she will continue to get even stronger. So as i ran the first 5k with Jan, my masters idol, It was time to finish the run with a Rookie idol! I could tell Suzie was struggling, and as i came upon her on a little incline before that Mac-Daddy hill i passed her and said "come on girl, you can do this." Now maybe i should have shut my trap. But there is always that part of me that wants to encourage and not just pass. Even tho we are so NOT in the same AG. It just felt right. I mumbled it maybe, but all the sudden her fan base was camped on the hill and i heard " get her Suzie, you can catch her!" and i thought "ruh-roh, I gave her some power." I knew Sarah was back there too. And Jen L, I knew she was making up minutes, not seconds, on us.
So as i did my small chain ring climb I had a few thoughts in my head:
1) You are almost done. You can do this.
2) You had better kick some tail into that final sprint bc if you are sprinting a super talented athlete that is 20 years your junior, you are going to pull a hammie!
3) It's a track. GO.
And So i went. I didnt wait at the top of that hill i just put my hips forward, too funny that i thought of that, and i pumped my arms and recalled running my last 800 on tuesday sub 3 and knew i had it in me. I did what i could and you know what. I didnt hear anyone behind me.
I glanced back with 25 yards to go and didnt see anyone and came in to the finish.
( Stenzel pic, thanks Speedo)
YYYYYYup those are pink flamingoes lining the run course.
OK. In hindsight i do remember being confused by them as you run on the track then off the track onto the grass again before the timing mats and i was like " do i run inside of them? outside of them?" What are they doing there? I dont remember them from run 1.
I talked to the gals at the finish ( first pic) and my honey was there waiting as well. He rode out from home, saw a few friends and hung out a bit then rode back home. A great riding day for him as well, even tho he covered about 50+more miles than me! He is recovering so well, so positive and so strong to come back from such a devastating diagnosis. You cant see em but i wore my pink CANCER SUCKS socks. I need a new pair, this pair has gotten too much wear lately:(
Final notes:
I ended up narrowly winning the 40-44AG. Turns out Sarah is in my AG! As i said i was super pleased dropping time off my bike, and my runs were a bit slower, but who knows, not alot and maybe the sloppiness ( we had some rain saturday) made it slower. I dunno. I dont race with a HRM so I cant tellya any bodily stats other than it was hard.
I missed the money by 2 spots, but I was 2nd master to Jan and 7th OA in a field of really talented and supportive women. Any of the women placing 8-12th could have been up there on another day.
Oh and the mocha Ultragen. AWESOME. I drank that right down and wanted more:) I feel pretty good today, I am really not sore, surprisingly, after the race I didnt knot up and get a super sore butt like i often do riding hard in Aero. Yes there were cupcakes, and there was good post race food and then i came home after the awards toRich working in the yard. He was super covered in grass and well, I loved the pic, he didnt:) end of story:)
This is what i came home to:
My super survivor hubby who will do his first Tri at Minneman!
Thanks again to everyone that raced and encouraged me during the race, and those that cheered and a special thanks to Gear West! Of course thanks to my honey:) Always cheering me on and helping me with my training, Hannah, DKT, Curt, Trent, Jan, Kevin ( who was out riding with the pros at the TOC TT! I never heard if he beat Chrissie, but what a chance of a lifetime!)
Jules Mac and Brian, Erik, Katie, It really was so fun to see everyone!
Gear West puts on a first class event and as much as i think i should do hill repeats to get ready for that hill, its almost better just to leave it till next year.